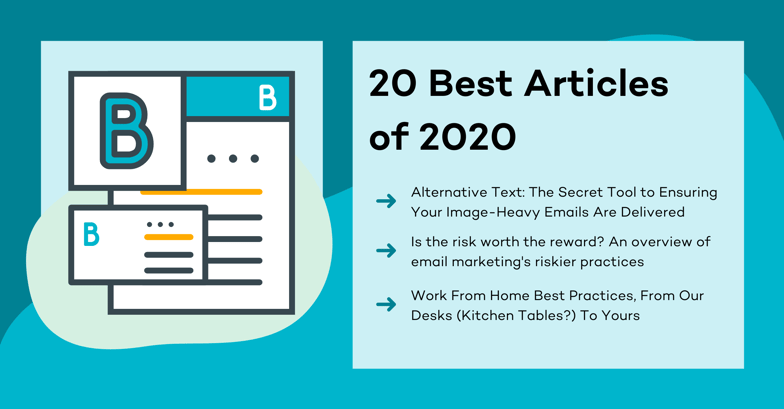 Let's ring in the new year with a compilation of our most popular blog posts of 2020 - hopefully you learned a thing or two with us, and we can't wait for you to see what the next 52 weeks of blogs will bring.

Is the risk worth the reward? An overview of email marketing's riskier practices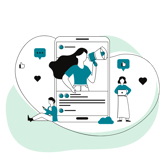 So, you like to live life a little dangerously? Whether you're staying on a 5 in blackjack, you keep a glass of water next to your laptop, or you use web fonts or embed videos in an email, you know there can be value in taking risks that don't necessarily have a 100% success rate.




Alternative Text: The Secret Tool to Ensuring Your Image-Heavy Emails Are Delivered
Don't let pretty pictures ruin your marketing message.




Work From Home Best Practices, From Our Desks (Kitchen Tables?) To Yours
rezora made the transition to a fully remote company in 2017, which has given us the luxury of honing our ability to run a productive office at home. In an effort to help alleviate some of the navigation required when it comes to working from home, we've compiled a list of the most helpful resources and best practices, from our desks to yours.
Taking your Spheres to a higher level

Spheres are very powerful, magical shapes in the world of real estate marketing, and they're the key to effective collaborative marketing.
Cleaning Up Your Customer Database: How and Why
Most individuals have heard the warnings to keep their database clean and updated. But why? We hear that we should, but when you are already busy with an ever-growing to-do list, what justifies giving your database a routine clean out?
rezora Launches New Marketing Services Packages to Support Your Real Estate Digital Marketing Needs
New marketing services packages are available for everything from your strategy to your content so you can take a get everything done and eat lunch away from your desk, too.
rezora Feature Preview: Get As Close As You Can To Creating Time With Listing Automation

Listing Automation is the next step to elevate your real estate digital marketing, and we're here to tell you all about it and how you can use rezora to streamline your marketing efforts.
How Can A CTA Improve Your Email Marketing
All of us, as consumers, are inundated with marketing messages every day , and that does not exclude the people on your contact lists. The solution to avoid landing automatically in the Trash folder or being Reported as Spam, is not only a straight-forward subject line (more on that here), but a clear, visible Call-To-Action (CTA) as well.
Four Ways to Receive Better Customer Support
rezora's Senior Support Leader shares what he's learned in his many years in support, and how he's used his knowledge to get better support from other companies.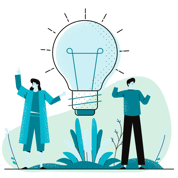 How rezora Grew Through An Economic Collapse
rezora launched in 2009, with its key creation period being in 2008, amidst an economic collapse. The 'never say die' attitude of rezora's founders got us where we are today, and is as important as ever. There's a wealth of stress-inducing content out there, so in an effort to bring some positivity across your screen, we decided to share the story of how rezora went from four guys sharing a house in a college town to the industry leading solution it is today.
Your Digital Marketing Strategy Should Be Evolving to Appeal to Millennials
Millennials make up 37% of all home buyers nationally, which is the largest proportion of any generation, making it a no-brainer to target your digital marketing accordingly.
Nurturing your Contacts with Intentional Email Marketing

It's no secret that it takes work to turn a contact into a client, but segmenting your audiences and targeting your content can take your efforts to the next level.
rezora Adapts Platform to Support Rapid Recovery Care Community
Real estate marketer rezora adapts its platform to serve COVID-19 impacted Rapid Recovery Care community, opens platform to other facilities in need.
rezora Feature Preview: Finding The Perfect Email Template
Zephyr is rezora's content creation tool, and we recently made some updates to it that we want to show off! So come take a sneak peek at the rezora app and what our Engineering and Product teams have been hard at work to roll out.
Mind Your P's & Q's with CCPA and GDPR
In our increasingly complex, connected digital world, protecting the data of your prospects and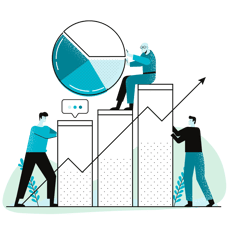 customers has become a critical business responsibility that faces more and more legal scrutiny from international, federal and state governments. To make sure you are adhering to the most current regulations, we are committed to taking all necessary steps to ensure you stay compliant in your digital marketing efforts.
How Real Estate Agents Can Use Empathy Maps To Navigate Changing Client Needs
A personalized client journey can be the golden ticket to a referral, but where do you start? Empathy maps are a great way to get in the mind of your prospective clients, especially as the market is changing.
How to Come Out of This Crisis Stronger: Real Estate Digital Marketing in The Age of COVID-19

A personalized client journey can be the golden ticket to a referral, but where do you start? Empathy maps are a great way to get in the mind of your prospective clients, especially as the market is changing.
Why Building Engaging Real Estate Marketing Emails Is So Important
Have you ever thought of email marketing as casting a wide net to try and pull in as many folks as possible? For many agents, that is the go-to marketing tactic, however, it may not be the best one. In fact, it could be damaging.
Implementing New Software For Your Agents While Working From Home
Implementing new software to your agents while the office is at home can seem like a daunting task at best, but we're here to dispel that myth: implementing new software while working from home is completely doable.
The Simplest Ways to Make Email Marketing Work For You
Email marketing is a great way to get your products, deals, and company at the tip of consumers'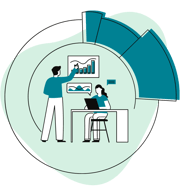 fingertips. Although this type of marketing makes for an easy "in" with many clients, there are a couple of tips to remember in order to fully reap all of the many benefits.