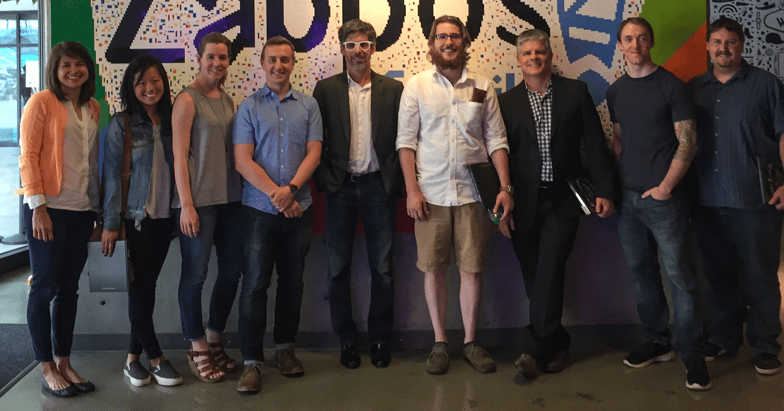 rezora team touring Zappos circa 2016. The founders used flip phones in 2009, so unfortunately, photos from early rezora days are scarce.
rezora launched in 2009, with its key creation period being in 2008, amidst an economic collapse. The 'never say die' attitude of rezora's founders got us where we are today, and is as important as ever. There's a wealth of stress-inducing content out there, so in an effort to bring some positivity across your screen, we decided to share the story of how rezora went from four guys sharing an apartment in a college town to the industry leading solution it is today.
Before they were servicing dozens of luxury real estate brands, Rick Chastain, Hugh Morgan and Paul Reinarz were separately pursuing careers in software development and event management. It was Rick who first brought the concept of rezora to the conversation after a real estate developer he worked with was looking for a solution to market time-shared vacation properties. It's a tale as old as time: the developer wanted to use their own marketing collateral, but agents weren't willing to give up their contact lists in fear of being cut out of commission. At the time, Paul was spearheading Reinarz & Associates, so Rick subcontracted the company to help bring a solution to the table. The eventual solution was sold to multiple developers, catching the ear of Mike Russo, a broker owner in Aspen. Mike wanted to invest in the company, and it was his brilliant idea to gear the solution towards brokerages and agents. The solution's trial run was so successful that they were kicked off of their web-hosting plan, which encouraged the founders to turn it into a fully-realized piece of software.
While iterating on early-days rezora software, rezora's clients were starting to go bankrupt, which means they were too. Ever one to keep his eyes towards the next challenge, Paul started attending tech meetups in Boulder, Colorado, where he saw the Techstars class of 2008 presentation. Techstars is an American seed accelerator, with an acceptance rate of less than 1%. Figuring it was worth a shot, the founders applied for the Techstars class of 2009. Their acceptance led to an incredibly intense summer, with Rick, Paul, Hugh and Mike sharing an apartment in the heart of college town Boulder. In the words of Techstars founder, Brad Feld, being a part of Techstars was like "drinking out of a firehose". Here's what two of rezora's founders had to say about their Techstars experience and how rezora has since grown:
What is the most valuable thing you learned at Techstars?
Paul Reinarz: Everybody has an opinion about how you should be doing something, but there's not necessarily a right way, just a way. At some point, you have to decide what's best for you. There is no playbook. You know the most about your business, so those are your decisions to make.
Hugh Morgan: Everybody has an idea - they're a dime a dozen. It's the execution that's critical in terms of making a business. Investors know that, so what they're looking for are the people rather than the idea. Are they driven, are they able to consistently execute?
PR: In fact, they'll tell you they invest in teams, not ideas. The strength of community as well - we didn't do a great job in the past of embracing the Techstars community, but as of late, we've seen a lot of value in reaching out to that community. It's priceless.
What is the most valuable thing you've learned since Techstars?
HM: Be sure your backup is complete before you delete a database.
PR: There are a million, but living the cliche's and learning from them - your team is only as strong as your weakest link, for example. Cliche's are real.
You all lived in a tiny apartment in a college town together during Techstars. Any memories that stick out?
HM: Paul and I had been working on an ask to send automated emails on the agents behalf, and we were up until about one in the morning in the Techstars bunker with whiteboards and markers trying to hash it all out. We had purchased some plexiglass as our makeshift whiteboard and mounted it on the wall at the apartment, and I remember going to sleep at 2 in the morning with all of that on my mind and waking up in the morning with my "aha!" moment. I walk downstairs to get it on the board, and there's Paul in his pajamas, diagramming out the same solution.
PR: Being part of the Techstars family at such an early point in their history was really cool, and the level of people coming through was insane. Not only that, but the people touring that wanted to start their own programs as well. Being part of the third class to ever go through Techstars was really special.
Biggest highlight of the last ten years?
PR: Working with great clients who willingly contributed to our success via open communication and being able to help our clients succeed in a meaningful way. The internal team we've been able to put together and help thrive, too.
What do you think has been the key to rezora's success over the last decade?
Our clients, our team, never say die attitude (now more than ever!), being able to serve an industry during a challenging time and persistence to keep it alive.
If there's a lesson to be taken, let it be this: your team is of the utmost importance. When you outfit your company or even just surround yourself with people who have the same attitude of persistence, the possibilities are endless. rezora plans to continue to never say die, and we can't wait to see our clients (past, present and future) make it through this period of uncertainty with us.
Here's a comprehensive list of COVID-19 resources, brought to you by Techstars.