How do I find the perfect template for my needs?
This is a pretty common question we get here in the rezora Support department. If you've only got a small template selection available to you, it can be tricky to know which one you can use to suit your purposes. If you have a large template selection, the process can be just as paralyzing.
Well, I am happy to say that our Engineering and Product teams have been hard at work to make it easier than ever for you in our Zephyr editor. Here are the filters and features we've put in place to help you find what you need even faster.
The Editabilty Filter


"Editability" is essentially your ability to add new content to a marketing piece. Whether you're looking to create your own content, to just make a few changes to a good base, or to have a built and ready to go piece, we know most of the time you have a specific idea in mind for the content you want to provide to your contacts.
The new editability filter allows you to quickly find a piece with the exact kind of customization that you need, so you don't have to sort through options that don't apply to you.
The Dynamic Tag Slots Filter


With our recent updates to Zephyr, marketers can save dynamic tags right in the template. Dynamic tag slots populate with Listing, Agent, or Article information that you select right when you build the piece!
That means that you can use the "Dynamic Tag Slots In Template" filters to find a template with the number of listings, agents, or articles you need to build your perfect piece. Set the "Maximum #" to the highest amount of listings, agents, or articles you want to include in your piece, then filter to zero in on the best template for you!
If you can't find the exact amount of slots needed for all of your listings, agents, or articles, set your "Minimum #" lower, and set the Editability filter to "Editable/Add any rows" or "Editable/Add only approved rows" to find templates that allow you add more rows later.
Hovering over and Previewing Templates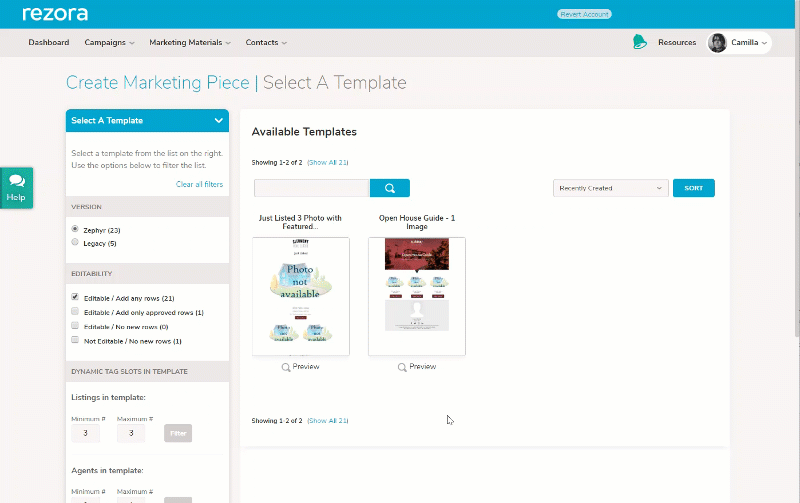 After 30 years on this Earth, I've had to accept that I'll never have superpowers. I'll never be able to fly or see the future, but when I'm selecting a template, I can get pretty darn close by hovering over and previewing a template before I use it.
Hovering over a template allows you to see the features of a template. In just a quick glance, you can see how editable the template is as well as how many listing, agent, and/or article slots it has.
But all of these things just really let you see what is in the template, not what it looks like. Well my friends, now we witness the power of the preview.
Under each and every template available to you, you'll find a preview button which allows you to see how the template will appear when you use it (though any dynamic tag slots will be filled with generic placeholders).
Want to see more of Zephyr? Head to the "Get Started" button at the top of your screen for a demo and to see it in action, or simply click here.