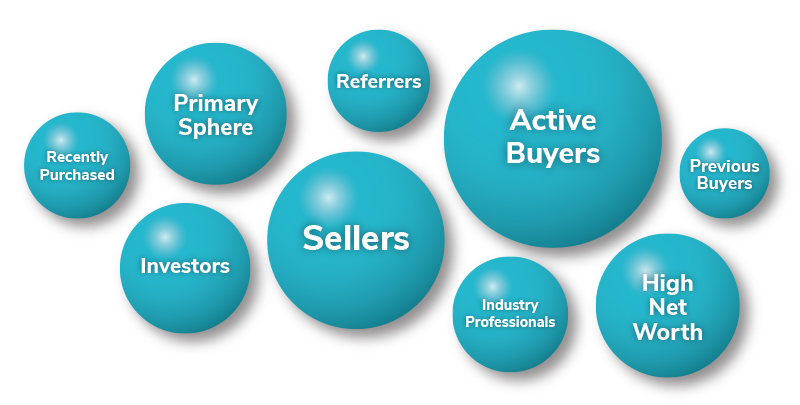 Spheres are very powerful, magical shapes in the world of real estate marketing. An agent's "Sphere of Influence" (SOI) is the collection of contacts or prospects with whom they have a relationship, whether in the short-term for the purposes of buying or selling property, or over the long-term so that they "stay top of mind" for when a short-term opportunity arises. Building, growing, and maintaining your SOI is key to successful real estate marketing, as it is akin to constantly yet moderately pedaling your bicycle to keep your momentum and forward progress going while you work on your more immediate deals.
At rezora, Spheres are where the power of Collaborative Marketing really kicks into action. More than a decade ago, rezora took this idea and applied it to the real estate industry so that brands, brokerages, and agents would all benefit from having their combined marketing capabilities, resources, and efforts work together to maximize everyone's success. Simply put, our application of Collaborative Marketing enables a brokerage marketing team to create and distribute marketing materials via multiple channels to the contacts of the agents with whom they are associated (find more information about the hierarchical nature of rezora's account system here).
The interesting difference in the real estate world is that contacts are often a treasured asset owned by Agents, and are typically not given to or shared with their brokerage. So our industry-leading system keeps those contacts protected for the agent, while still allowing the brokerage to send marketing materials to all of the contacts that their agents have assigned to a brokerage-level Sphere. Agents assign their contacts to a particular Sphere, and the brokerage marketers do what they do best: create and send marketing materials to that Sphere on behalf of their agents in what we call "Company Sends".
The best application of this powerful concept is when brokerage marketing teams create and send a variety of marketing pieces on a regular cadence, specifically targeted to segments of contacts belonging to all agents (or a defined Group of agents), that augment their agents' own marketing efforts. Marketing pieces can include high-level brand support for agents, seasonal or thematic messaging to keep agents "top of mind", announcements of relevant brokerage events and activities, regional lifestyle or geographic data, brokerage-level featured listings, weekly open houses, and a variety of other interesting content or message types. This collaborative effort keeps the pedals moving for agents and ensures positive momentum for all.
With rezora, brokerages can create multiple Spheres that target specific segments of their agents' contacts, such as buyer or seller personas, demographic cohorts, or categories such as influences, investors, and industry professionals. Our clients use Spheres to align with their marketing strategies and calendars, focusing the right messaging, content, tone, and timing on the right segments of their target market. Agents feel safe assigning their contacts to these Spheres and marketing teams leverage the system to ensure that ongoing, relevant, persuasive brokerage marketing reaches the right people at the right frequency.
Want to take your Spheres to the stratosphere and beyond? Check out the rezora system here, and let's get started with a conversation soon!