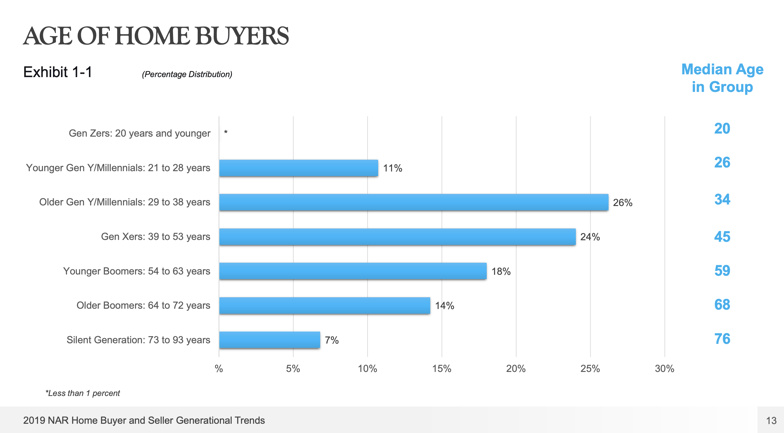 According to the National Association of Realtors 2019 Home Buyers and Sellers Generational Trends, 37% of homebuyers consisted of millennials. When it comes to millennials, technology plays a large part in their house-hunting, because this generation relies heavily on mobile devices to search, view properties, and communicate with real estate agents. With this in mind, in order for a real estate agent to market to a millennial, they should be prepared to include text messaging in their digital marketing strategy.
There are a few things to keep in mind when it comes to millennials and how to market to them:
Location, Location, Location



According to NAR, the most popular areas that millennials wish to purchase homes are:
Bakersfield, CA - This central California town allows residents to be close to the Los Angeles and Bay area.
Denver, CO - A lot of millennials already reside there due to continued job growth, which continues to grow.
Durham, NC - The tech industry is booming! Durham happens to be one of the largest metro areas with technology related positions.
El Paso, TX - Growth in the area for millennials wanting to pursue their career within the U.S. Government offices (U.S. Citizenship & Immigration Services, the Drug Enforcement Agency, and the U.S. Customs and Border Protection).
Grand Rapids, MI - Based off of their affordable market and strong employment growth.
Madison, WI - This happens to be a millennial favorite due to a large range of hospitals and the growth of healthcare software jobs.
Oklahoma City, OK - Strong employment growth and affordability in the area attracts millennials.
Omaha, NE - Most of the jobs here are related to healthcare, education, and social assistance.
Salt Lake City, UT - SLC has a high population of millennials with a strong employment rate due to the residence of major companies, including Adobe Software and Microsoft.
Seattle, WA - 70% of recent millennial moves were to Seattle in 2017, and it continues to grow rapidly. Various major companies such as Amazon, Microsoft and Boeing are located in the area.
Millennial Home Preferences
The era of the McMansion may be coming to an end, as millennials tend to opt for smaller spaces, whether it's to save money (first-time homebuyers today are likely to pay 39% more than first-time homebuyers did in the 80's, with today's first-time homebuyers requiring up to seven years to save enough for a down payment) or because they simply don't need as much space due to advances in technology. No more bookshelves or filing cabinets - it's all online. The size of the desired backyard, however, seems to be staying on the larger side as more millennials opt for dogs over kids, at least for now (most millennials don't plan on having children until they're in their late 20's or early 30's). Location is a huge factor for millennials as well, choosing bigger cities with great walkability over suburban neighborhoods with a commute; convenience is king over that extra bathroom.
Marketing to Millennials
According to NAR, 94% of millennials are using the internet to begin their home buying journey, so it's imperative to make sure your online presence is up to snuff. A great way to improve your personal brand awareness and search engine optimization (SEO) is to begin writing a blog. You're the expert here, so why not show it? As someone with insights in the industry that the average home-buyer or seller isn't as privy to, you're in a position to share valuable insights and encourage your readers to trust that you know what you're doing. Plus, the additional web presence will help improve your SEO, making you a top choice when millennials start searching online.
Millennials tend to have a shorter attention span as well, so enough with the fluff in your marketing emails - give them the necessary information and then help them decide what to do with it with strong call-to-actions (CTAs) that encourage them to look into the property further and contact you. This is another reason why texting can be a huge piece of your marketing to millennials: a quick text with targeted information (ex: New listing - 3 bed, 2 bath, huge yard, in your price range: [Insert Link]) can be more effective than a generalized email, plus it pings your recipient immediately, so you don't have to wait for them to open their inbox.
Millennials also love loyalty and personalization, so establishing communication via text with your client will make them feel like you two know each other on a personal level, giving you the benefits of friend they know as opposed to just another sales guy. Additionally, it's difficult to give the impression of a curated experience when everything is happening online, so targeted texts give you a perfect opportunity to create the same sense of a tailored experience.
Don't be afraid of the millennial, because their even more tech savvy successors, Generation Z, are on the rise, and expected to continue to do so in the coming years. Invest in more tech savvy millennial marketing and you'll be investing in your future.