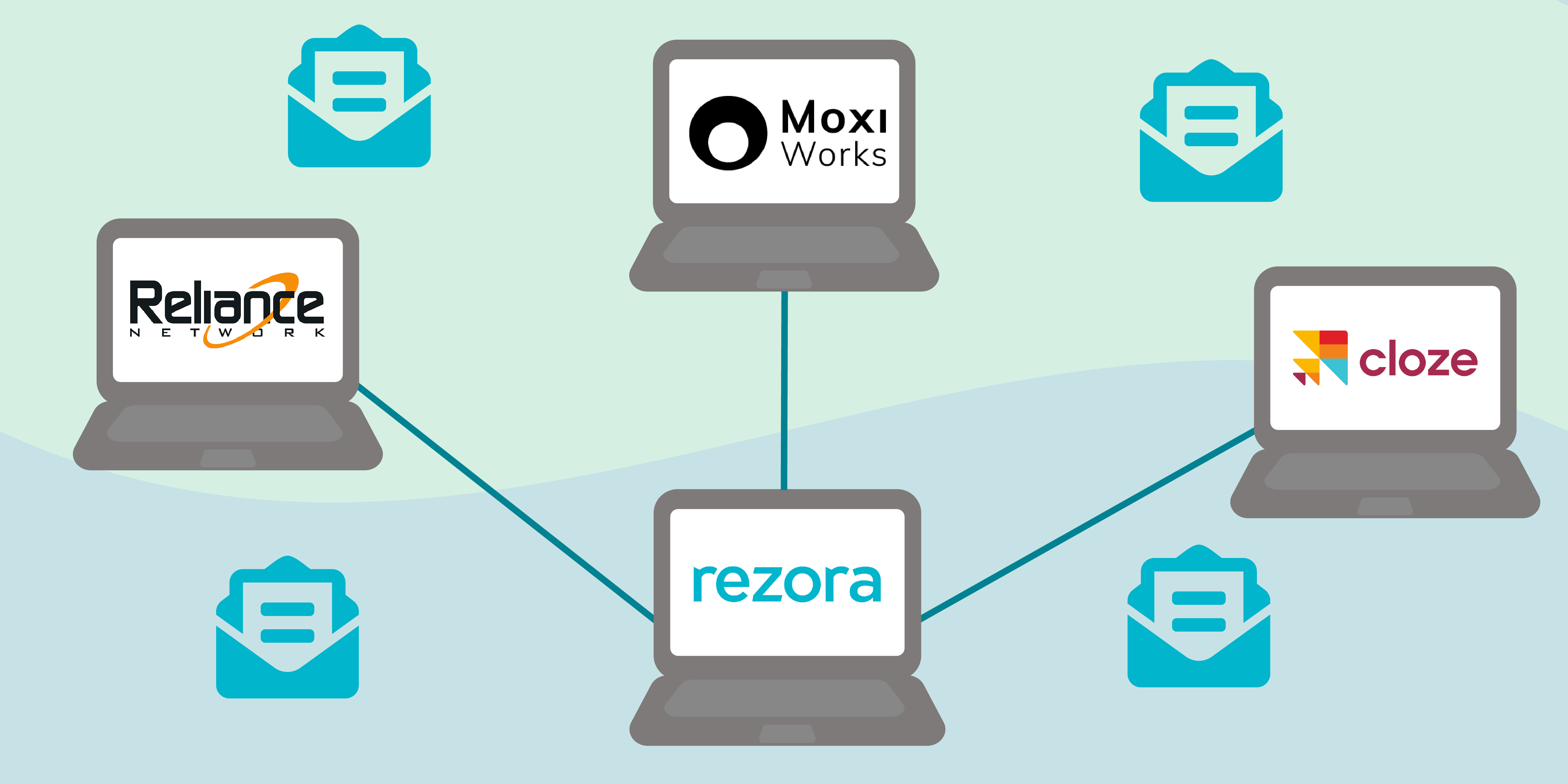 Brokerages spend a lot of time and money on their brokerage platform - the software that often powers some or all of their website, CRM, Intranet, email, presentation application and lead generation tools. As with anything, an all-in-one-all tool has some features that are more powerful than others. Fortunately, many platform vendors, and best-in-class vendors such as rezora, use application program interfaces (API) to easily send data between the brokerage platform and third parties.
What kind of data can an API send? That depends on the APIs being used, but for a real estate brokerage, most often those data sets include contact/mailing list data, listing data, roster data and activity (consumer clicks, email sends/opens/clicks, etc.). If you want to bolster or replace one application within your brokerage platform because either the functionality does not exist or is not sufficient for your needs, APIs allow you to add a third-party service and easily get the data needed to make it operational very quickly.
At rezora, we integrate with Reliance Network, MoxiWorks, and Cloze, among others. In fact, rezora, the country's best real estate email platform, is pleased to announce it's the first vendor to offer MoxiWorks' new API system PubSub, a next-generation technology allowing for near instantaneous updating of data from MoxiWorks' systems to rezora's. Add a listing to the MLS? For a brokerage, this means as soon as updates to listings, contacts, or contact lists are made within MoxiWorks, they are pushed into rezora's system. This allows rezora clients to send out automated listing marketing faster than on any other platform using older technology. It also allows changes to agent contact lists and mailing lists to be updated in real time.
Cloze customers, who rely on Cloze's phenomenal CRM, can also continue to use Cloze for one-to-one messaging, and use rezora's one to many tools to effectively deliver on-brand messaging to targeted groups within their Cloze CRM. Contacts added to Cloze are automatically synced within rezora's platform.
Similarly, Reliance Network clients using rezora can easily get their agents' contact information and contact lists imported into rezora effortlessly for a smooth onboarding experience. These brokerages can take advantage of rezora's drag-and-drop email editor and insert listings, local articles, and other forms of content to market to their agents' spheres of influence.
So just because a brokerage has committed to a platform, API's create flexibility for brokerages to work with tools that they prefer or enhance their included tools to create the best experience for their marketing staff and agents.