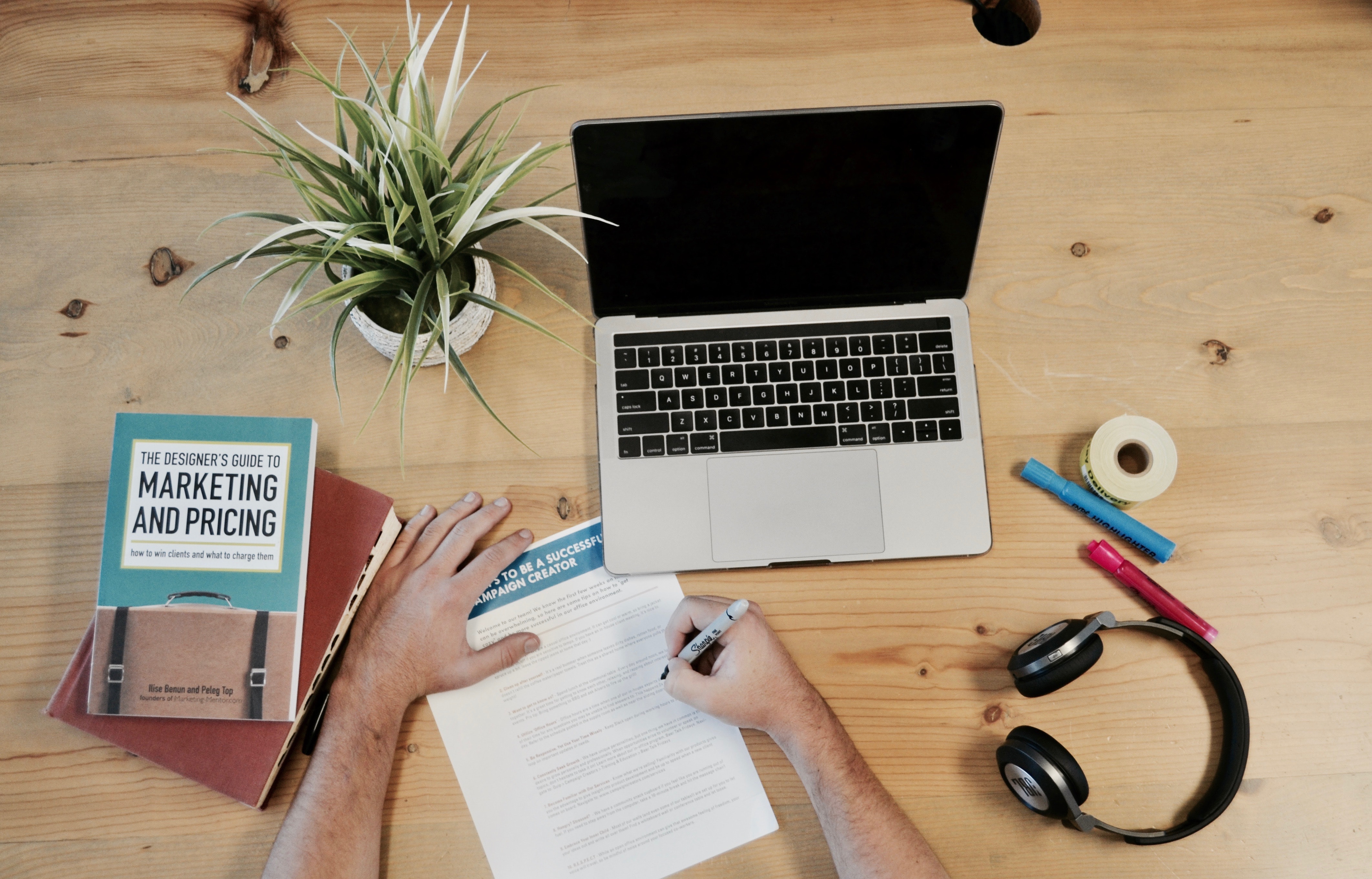 In an oversaturated digital age, it can feel like your content is floating out in the internet abyss with nowhere to go. eNewsletters are a simple and easy way to keep in touch with your audience while giving your content the promotion it deserves. Sending a monthly newsletter will keep you top-of-mind with prospective clients, too, so what are you waiting for? Let's jump in!
The Tippy Top



Hopefully this isn't going to be a surprise, but at the very very top of your email should be the important things like your logo (usually linked to your website) and your social media icons. These can include anything from a link to your website, your blog and the more obvious platforms like Instagram or LinkedIn.
Pro tip: if you're not sure where to find free icons, you can find them on Canva.com! Just search "Twitter", "Instagram", etc. under the 'Elements' tab, and you'll see options upon options. While some are not free, most are! Plus, rezora has an entire suite of icons that come with our template builder - schedule a demo to check 'em out here.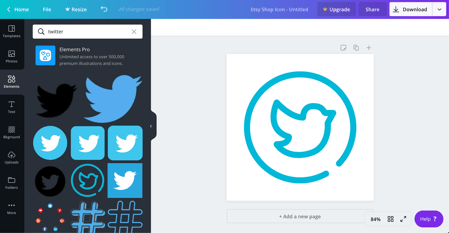 What's next?

That would typically be your hero image. Choosing a quality hero image (or GIF as seen in this blog post if you're feeling fancy) is key - it's the first thing your recipient is going to see, so you want them to be intrigued enough to continue to scroll. Some things to keep in mind when choosing a hero image are the quality (the higher the better! But keep in mind that large images won't load in some email clients, so try to stay under 1MB), the content (choose a relevant image - if you're trying to sell homes, choose an image of a beautiful house as opposed to something random or not visually pleasing) and the "extras". Extras include things like filters on your photo, or text over the image. There are really good ways to do this, but also really bad: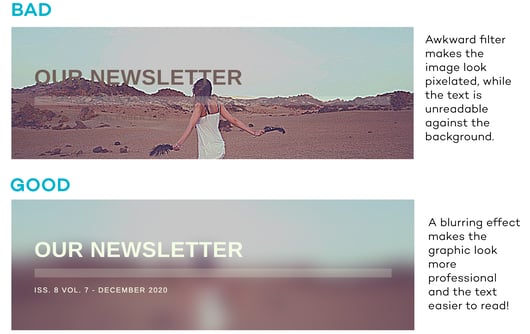 As far as sizing goes, you want to stay under 1MB as mentioned above. Your typical email is between 600 and 800 pixels wide, and you don't want the recipient to have to scroll for too long to get to the bottom of the image, so try to stick to dimensions under a square (so if your image is 600 pixels wide, try to keep it under 600 pixels tall). The above examples are all 600 x 200 pixels and created on Canva.com.
Pro tip: find high quality images that are free to use on Unsplash.com.
The Good Part: Body Content
First things first, if you're looking for a song to accompany or even inspire your reading of this (longer, sorry!) section, The Good Part by AJR is my recommendation.
When creating the body content of a newsletter, it's helpful to start with some sort of structure. A great exercise is to predetermine how much information you're trying to share, and then break that into sections. For instance, if you know you have two articles that are related (like two from your own blog), one article that isn't related (like one from an external source) and a few events you'd like to promote, you can go in knowing you'll need enough room for content that can look something like this: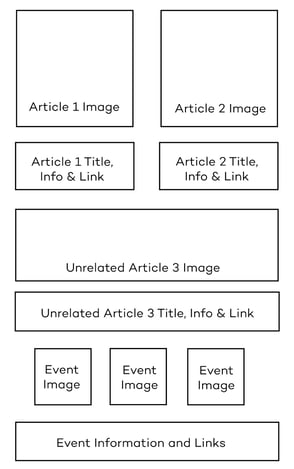 Once you have this outline you can use it every time you create a newsletter! Just swap out the content and send away. (This is what we do with our monthly newsletter - so when I go to create it each month, I know exactly what kind of content I need!)
Now that you have some sort of outline to work with, let's talk about content. While it's incredibly important to promote yourself and your own content, it's equally important to share content that isn't yours. This may sound counterintuitive, but sharing quality content that's relevant to your recipients will set the precedent that you're an expert in your field: you know what's worth sharing, what's helpful to read and when to read it. Additionally, sending content that's solely your own can create an overly salesy tone that most recipients will see right through.
Another important thing to think about is video content. It's not a secret that video is increasingly popular in marketing efforts, but there are a few gray areas when it comes to email, mostly due to how email clients receive video. A lot of email clients don't display embedded videos because they're actually hotspots for malicious code. This means your beautiful email will have a weird gap between content that doesn't quite make sense. A great way to get around this is by taking a screenshot of your video, and adding a play button on top. You can use Canva.com to do this in under a minute - just load your photo and search "play button" under 'Elements' - place on top, export (to a PNG for higher quality) and you're all set! Or, use the rezora template builder which will automatically generate the play button for you - to see it in action, set up a demo here.
Now that we have that out of the way, you can start constructing the body of your email. Because you already decided upon the basic structure, this should be relatively painless. We've already gone over what makes a good image (under 1MB, visually pleasing, etc.), so remember to keep these things in mind when choosing supplementary images to go with your content. Your end result may end up looking something like this: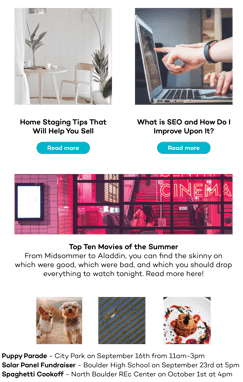 All of the images used were found on Unsplash.com.
Second to Last: A Footer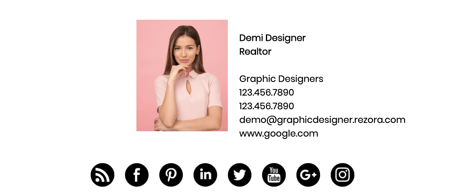 Once your recipient has scrolled through your stunning newsletter, you want to remind them who sent it and how they can get in touch with you. A footer usually includes a headshot, your name and contact info as well as social links. This can get as visually complex or simple as you want - as long as it's easily digestible and includes all of your information, you're set!
Last But Not Least: Post-Footer Information

This is an optional step, but it's a professional way to close up the email, and it's the perfect place to brag about your achievements! rezora is very proud to be on the Inc. 5000 Fastest Growing Companies list, so we include this in our post-footer. We also want our recipients to know that we have a comprehensive training calendar, so we throw that in as well. Other examples include partner logos, office locations, or testimonials.
Now go forth and send some amazing newsletters!