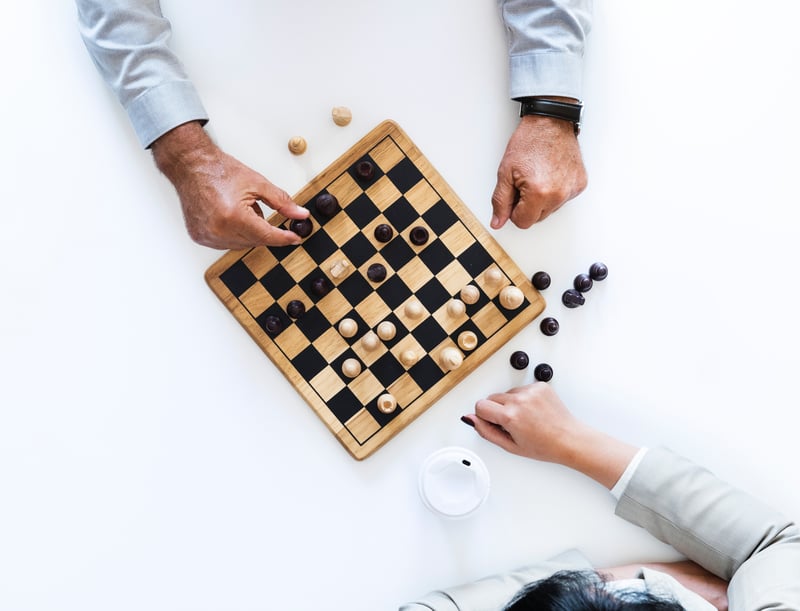 "With multiple real estate brokerage and business models offering consumers the services and prices that best fit their needs, real estate has never been more competitive"
- 2018 National Association of REALTORS®
There is high competition in the real estate industry and with the development of new technologies and the steady growth of the amount of real estate professionals, it has become increasingly more difficult to gain competitive advantage in the market. However, the task is not impossible because there is always room for improvement. We are going to take a in depth look at several ways in which real estate agents can emerge from the masses and gain the exposure they're looking for.
Understand Your Audience

Customer Service
It's no secret that providing quality customer service is a must-do for real estate agents in order to gain more referrals and repeat business. However, if you want to gain a competitive advantage in your market, a friendly smile and a bottle of champagne may not be enough.
According to the 2018 National Association of REALTORS Profile of Home Buyers and Sellers, among nearly all generations of home buyers, the first step taken was to look online for properties, except for buyers 72 years and older who contacted a real estate agent first. This statistic is important because it shows that your first impression to potential clients starts online. With this being the case, it is important to stay on top of your online leads by maintaining an efficient response time continuing to post updates.
Invest in CRM
If you aren't using a CRM tool, you should consider investing in one. CRM tools are a helpful way for agents to manage contacts, leads and external communications. When you use the analytic data provided to you through a CRM tool, you can better understand your customer's needs and preferences so that you can segment leads into different groups depending on the quality of each lead. This helps you stay organized and efficient. We recommend Contactually - we've also partnered with Contactually so you can sync your contacts into rezora and stay on top of all of your leads.
Listen to your audience
In a 2018 report done by the National Association of Realtors, when choosing an agent to work with, working with an agent that is honest and trustworth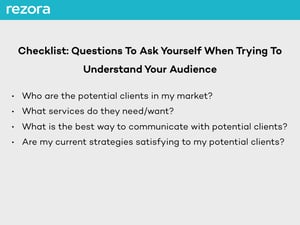 y was the most important factor for all buyers. Taking this into consideration, it is important to provide multiple channels of conversation with your clients so that you can listen to what they're asking for and provide the service they need. Pictured to the right are a few questions to keep in mind when trying to understand your audience.
Understand Your Competition

Research
One of the best ways to understand how to stand out in a competitive market is to pay attention to what your competition is doing so that you can do it better or differentiate yourself. You make ask yourself questions such as:
"What is my competition doing, that I am not?"
"What service can I provide that will give me an advantage over my competition?"
There are many ways you can research your competition including checking out their websites and social media, signing up for their newsletters, asking your competition's previous clients how their experience was with your competition, and going right to the source by networking with other agents in your market.
Network
What better way to understand your competition and how you can differentiate from them than to interact with them face to face. Most professionals won't tell you their trade secrets but getting to know your competition in a more personal way can help you better identify who your competition is and how to act professionally. From a different approach, networking with your competition can help extend your reach within the industry which will further enable you to understand who your competitors are. At the very least, networking with individuals in your field can help you identify your strengths, weaknesses, opportunities and threats in your market. Some ways to network with your competition include hosting an industry night, inviting competitors to subscribe to your emails, attend local events, and following your competition on social media.

Update your Content
Updating and improving the quality of your visual content is a great way to gain advantage in your market. Buyers are much more inclined to continue to looking at a property online, email or social post if such content includes a visual feature.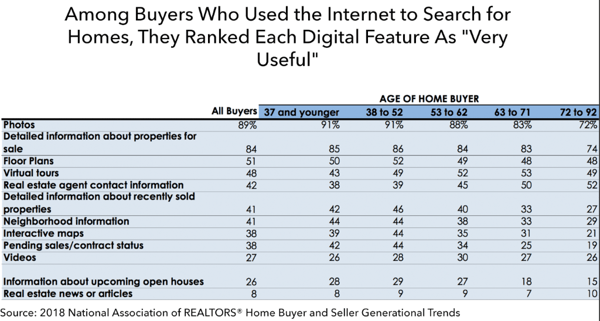 Use creative templates
In our last post, we talked about how including creative emails in your email marketing content schedule can diversify your messages and improve engagement with your audience. To see more examples of creative email templates, visit here. Some non-promotional email ideas include surveys, photo competitions (pets, Christmas decorations, etc.), trivia, or a countdown clock!
Branding Yourself
Research
Research is a key tool to staying on top of your industry so that you can improve your brand according to your market using real data. There are many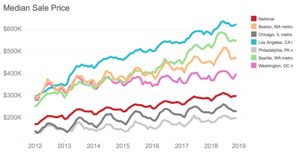 sources that can provide you with valuable information such as Redfin Data Center. Here you can see real estate industry data from all over the country.
Public Relations
Have you considered what positive PR could do for your brand? But what is PR and how can you succeed at earning positive public relations within your local area? Good public relations can come from being involved in local charities, volunteering, donating to local schools, support local sports teams and small businesses, etc. Presenting yourself in a positive light and as an active member of the community will improve your brand and generate the type of exposure you need to stand out from your competition.
Engaging in these activities is only half of the work, however. You also need to communicate your good work so that your audience can stay up to date on your work for the community. You can do this by sending email blasts, including images in your newsletter, social posts, updating your website, etc.