In order to enable a better experience for agents to manage contacts seamlessly, rezora's rolled out some exciting additions to our Contactually integration. Now, agents can focus more on promoting their listings and themselves.
What's new?
In addition to being able to sync your buckets from Contactually into distribution groups within rezora, we'll also be auto-syncing contacts (and buckets) once a day. This will eliminate the need to manually sync your contacts if you haven't been to rezora in a few days, so you can focus on engaging them through marketing pieces.
After the sync occurs, you'll see a report that shows the number of contacts imported and any contacts that weren't imported are shown why. We apply our same contact / email address checks to these imports as we do for standard contact creation or imports through rezora (some common reasons could be that the email address is invalid, the contact has unsubscribed or bounced in the past, or simply there isn't an email address on the contact in Contactually).
Syncing buckets into distribution lists is as easy as following the steps you normally would in syncing your Contactually contacts, but clicking the import buckets option as well. Keep in mind that contacts and buckets synced from Contactually are not editable inside rezora. The auto sync occurs once a day (overnight for now) and any immediate changes that need to be made will need to be done in Contactually and then synced over to rezora using the manual drop-down.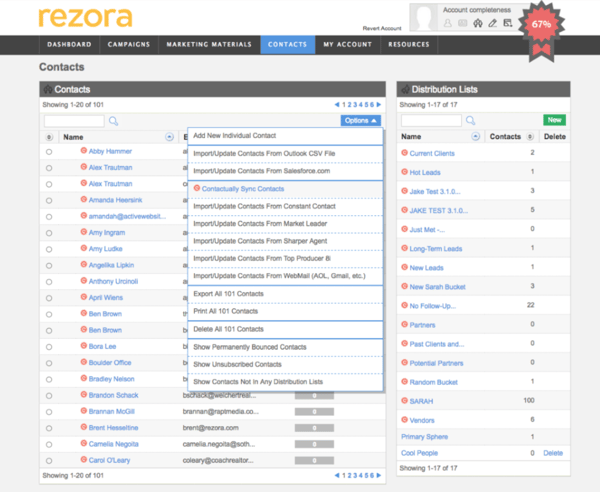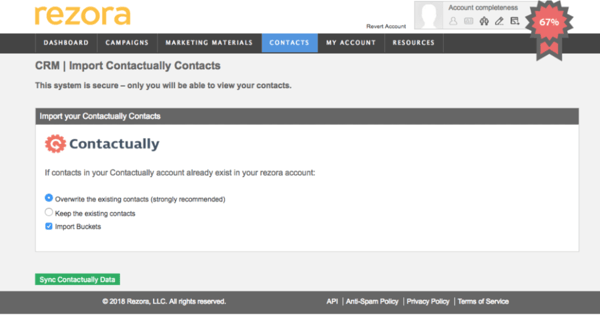 If you have a Contactually account, you can head to your Apps and Integrations page in rezora to set up the integration. Click here for a step-by-step instruction on how to set up the integration. Once you're set up, you can begin syncing contacts and lists over.
Through this integration, we're excited to provide a better experience for potential home buyers and sellers alike. As always, please let us know if you have any questions by contacting us at support@rezora.com.
To start your free trial with Contactually, click here.
To learn more about contact management, check out this post on Everything you need to know about rezora contact management and updates.