The Situation
Steamboat Sotheby's International Realty is a full service luxury real estate firm serving Northwest Colorado. With approximately 100 agents, Steamboat SIR is the leading real estate firm in Steamboat. With the goal of creating and distributing compelling content, Steamboat SIR uses the rezora software to successfully optimize their digital marketing strategy.
The Story
Traci Smith has been the Director of Marketing for Steamboat SIR for almost three years and is an active rezora user. Traci shared with us some of the struggles she and her team faced when creating compelling content before using rezora and how their overall digital marketing strategy has improved since then.

Marketing Challenges
Before using rezora, Steamboat SIR struggled with creating and distributing content that represented the quality of their brand. "Creating custom pieces for agents used to be pretty taxing - we had to recreate the wheel every time. Now, with the rezora platform, we have some great building blocks from which to build even the most custom template."
Solutions
For agents
"Our agents are able to connect with their spheres of influence at least once per month with little to no effort. We create a monthly company newsletter that is automatically scheduled to go out to the agents' primary spheres in rezora, so it is an automated communication, customized to that agent, allowing them to stay top-of-mind with their client base."
For clients
"Our clients benefit from our use of rezora because it gives us a platform to communicate with other industry professionals as well as with potential buyers about the properties that we have listed. We do that in a high-quality way with the use of our rezora templates the marketing platform."

Success
"Using rezora has helped us immensely with improving the quality of the content we send out. We are able to create custom templates, which our agents then have access to in marketing themselves and the properties that they represent. The platform allows us to retain control over the quality of the content that is sent out, but allows the agents customize the specific content within a template to fit their needs."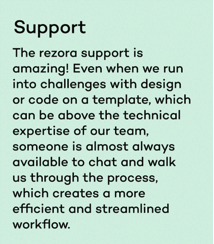 "rezora has allowed us to successfully execute key factors in creating compelling digital content including the storytelling/messaging, securing the visuals (photos and video) that will really engage the consumer, and creating the materials in a way that are visually intriguing but also easy for the consumer to take in."