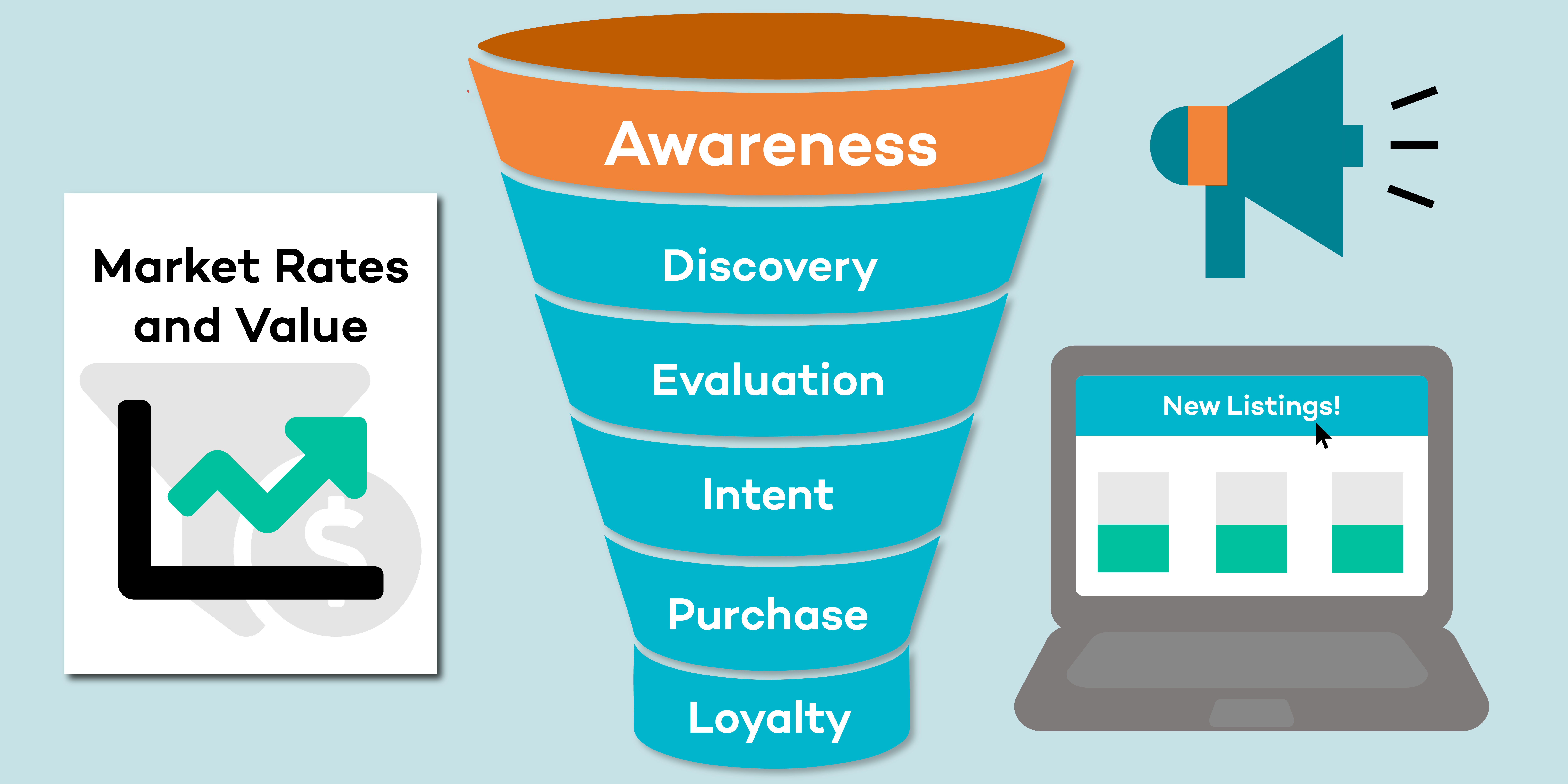 The market over the last year has been fickle to say the least. We've gone from a standstill to a white-hot market where brokerages can't keep inventory on hand. For many who were struggling to keep doors open, the resurgence of the market has been quite literally a lifesaver. As things begin to cool for the holidays, the question many brokers are asking is how can they prepare themselves for the inevitable downswing?
While many look quickly to their CRM, as an agent, using a CRM can be an extremely daunting process. Getting leads into the system, prioritizing leads, making cold or even warm calls can all lead to a pretty miserable experience. Furthermore, how are you supposed to do this when you also need to keep your hot buyers engaged?
The Dark Horse
The value of marketing in your tech stack is the most misunderstood component. Day in and day out, you hear of "tech stacks" which to most are series of check marks which share contact information. What ultimately is the value of these check marks? Are they helping brokers recruit and retain? Are they driving business? The reality is, the response is different depending on how forward thinking your brokerage marketing and technology team is.
Before we dive in, let's take a step back and analyze how we got here. While technology and real estate has been around for a while, the idea of an "integrated tech stack" has become the center of focus in the past five years. A lot of this wave within the industry has come as a result of groups like Compass using aggressive recruitment tactics and selling the future of an integrated technology suite to swoon agents away from their long time brokers.
Back To Marketing...
When looking holistically at the tech stack, marketing's primary role in a tech stack is to uncover intent within a database. When I say intent, it doesn't not mean that your agents should only engage with individuals calling or replying to marketing.
Let's face it: the majority of consumers leverage portals like Zillow or Trulia to look for their next home. If you're looking for responses to your marketing only, you've lost the war. You must go beyond opens and clicks to understand who really is engaging in your marketing. By doing so, you'll get more business and avoid your contacts being farmed out to the highest bidder on a portal.
Using intent from your marketing can help with some fundamental things including:
Better prioritization of time
Helping agents find their top clients
Staying top of mind
Finding more listings
Double ending more deals
With Zillow announcing recently that they are adding agents to their offerings and tech companies like Compass rolling out powerful integrated technology, agents who do not invest in the funnel are going to struggle.
First things first, how do we market?
Marketing should always add value. To the end consumer, the marketing sent out should be hyper-personalized based on the individual's position in the market. As a result, you must be segmenting your contacts. Heed Marc Davison's advice in the following tweets:
You must add value, or your contacts will begin to fatigue. But how?
Segment, Segment, Segment
I'm going to let everyone in on a little secret: not everyone cares about your listings. Jamming every listing down the throat of your sphere as soon as it crosses your desk may seem like a good idea at the time, but can hurt you in the long run. The reality of the situation is, most people want content marketing that adds value. The tricky part is, what is valuable to me is usually not seen as valuable to my neighbor. As a result, your agents should constantly look to segment their lists so marketing feels hyper personalized.
Consistent Themes
Through our decade of experience working with some of the industry's best brokerages, brands, and agents, we have found some consistent themes in content marketing. People LOVE to receive content that revolves around two things: community and lifestyle. But who do you send what to? The answer isn't always so easy. However, generally speaking, we've seen:
The gross majority of people who are buying their primary home are looking for community. For example, a new home buyer wants to know about news, local happenings, restaurants, music, events, schools, etc.
If you're serving a secondary marketing, lifestyle marketing tends to be more effective. For example, a brokerage that serves a ski town market may want to talk about the new snow dropping, recap of live music, family events, etc. As someone who lives in a ski town, I'm a sucker for this type of content.


What COVID-19 Has Done To Marketing
COVID-19 has had tremendous impacts on our country. With respects to content marketing, it has blurred the line between lifestyle and local marketing. There has been a major shift from people living in packed cities to people wanting more space. Resort communities and ski towns are exploding. Are cities dead? Absolutely not, but as this new normal shakes out, it's important to uncover current opportunities.
With this shift, your agents and marketing team should be looking to adjust their marketing around trends. For example, buyers who were traditionally looking in an urban marketing may find themselves considering living somewhere where lifestyle comes first. If your brokerage spans across multiple markets, now many be a good time to do a brokerage wide newsletter which is centered around lifestyle. We recommend continuing to test and iterate to see what works for your unique situation.
Last But Not Least
With the marketing sent, the most important thing to remember is that you need to use the data from your marketing engagements to dictate your sales efforts. For example, if you send out a new listing you should look at who opened and clicked on your marketing to know who to call. Pro tip: Like my colleague Jeff Harris wrote, when you reach out, don't tell them you saw that they just opened your email. Instead, tell them you found a new listing you think they would enjoy. We call it engineered serendipity.
To Conclude
To position yourself for the market adjustments and beyond, it's imperative to focus on the top of the funnel. Whether you're a big or small brokerage, as platforms continue to grow in market share, your marketing stack will become more important than ever. If you are interested in learning how marketing can be one of your most valuable assets, we are aways here to help.