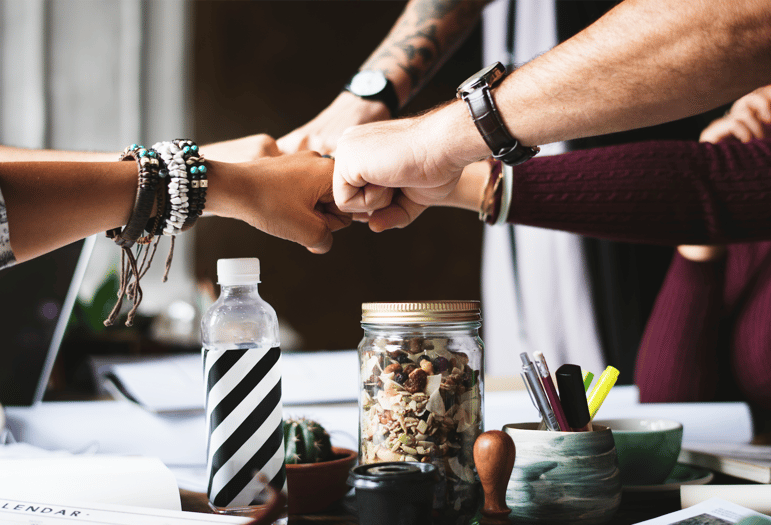 In order to maintain a successful brand, you need to keep your team motivated. When you have valuable employees, it is important to make sure your company work environment is positive and encouraging in order to maintain motivated team members. Not only will you gain hard working employees, but you will also better the overall quality of your brand in every department thus creating a holistic synergy throughout the entire company. In order to provide our clients with the right tools to manage and motivate their teams, we have laid out 5 easy ways to keep you and your team motivated in the office.
Set clear team goals
To encourage your team to achieve what is expected of them, set clear, quantifiable goals. One way of doing this could involve organizing a general team schedule of weekly, monthly, or quarterly goals. Such goals should be challenging yet achievable and should be able to be measured. For example, one goal for your team could be to generate 2 leads from social media advertisements within the next month. This gives you your ultimate goal to generate leads via social media, how many leads you want, and a time frame. By building a determined team environment, your team will want to do well ultimately improving your overall brand.
Offer incentives.
Another way to motivate your team is to offer incentives for when they accomplish challenging goals you set. This can be done in a number of ways including offering a collective team incentive, and individual incentives, which can create a friendly competition. The question is what types of incentives will inspire your team the most? Offering "cash prizes" may seem like the obvious choice of incentive when your team is relatively new, however this method limits the personal encouragement needed to fully motivate your team. Some alternate "non-cash" incentives have the potential to create something exciting to be working towards. Here are some great non-cash incentives.
Preferred Parking

Extra PTO

A Day of Relaxation:

Free Round of Golf or Spa Day

Friday Party
Encourage collaboration within the team.
One of the best ways to keep your team motivated in the office is to make sure they're working in a positive environment. Though individual work is important and productive, each person's work should be shaped by the overall team goal. By encouraging collaborative tasks within your team, you will be building a consistent pattern of internal communication. Additionally, initiating collaboration will generate teamwork between different departments. When your team can understand their own, and each other's strengths and weaknesses, they can become more productive and ultimately reach their goals.
Provide the tools your team needs for success.
In order for your team and your brand to excel, you need to provide them with the tools they need for success. Such tools can range from technical supplies, to mentor opportunities, to marketing software such as rezora.
Technical Supplies:

If there are certain tasks that require unique supplies, you will need to provide your team with such resources in order for them to complete the tasks to their fullest potential. For example, provide your team with a quality social media analytics software so they can optimize their posts and positively represent the brand.

Mentor Opportunities:

Mentor opportunities can serve as a great resource for team improvement! Not to mention mentor opportunities can also be a great incentive for team members excited about continuing their work experience.

Marketing Software:

By providing your team with digital marketing software such as

rezora

, you will be benefiting your entire brand. With

rezora

, you can create quality on-brand marketing pieces in which your agents can then edit and send to their own client lists or use as content for their social media. For more information, visit

4 Ways rezora Makes Marketing Easy for Agents
Celebrate individual accomplishments.
One way to make your team feel valued is to acknowledge individual achievements. Be sure to take note of improvements or admirable work habits. It is encouraging for your team to have their hard work noticed and can maintain the desired work environment. A popular method for celebrating individual accomplishments is a ceremonial bell or gong that gets rung whenever a sale is made or when an important goal has been met. There are many different ways you can creatively celebrate your team's wins.
Ringing a gong or bell

Playing an upbeat, positive song

Champagne at the end of the day

Special breakfast/lunch buffet

Coloring in a visual goal tracker: Giant goal thermometer or "win" board