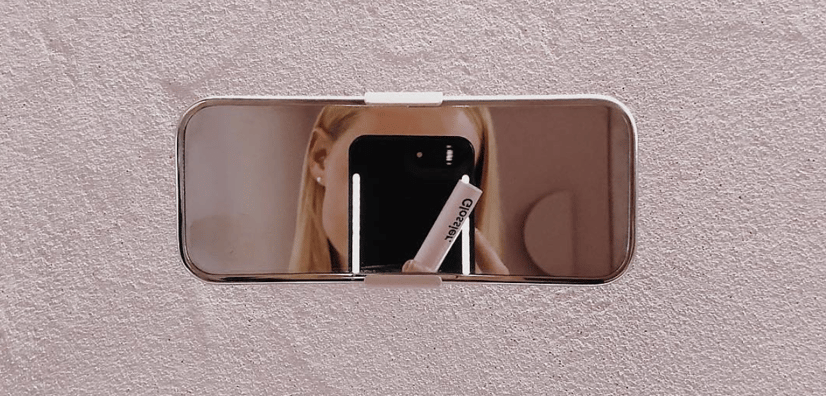 Photo from Glossier's Instagram.
I have an infatuation with Glossier's marketing. Scratch that - I just have an infatuation with Glossier. Their marketing is only one piece of the pie (speaking of pie - check out their Berry Balm Dotcompote recipe that's a brilliant play on their Berry Balm Dot Com lip product). And as someone who works in marketing, I love analyzing what other companies are doing and what seems to be working for them.
Glossier recently celebrated their 5th anniversary, and shortly before that, celebrated being worth over $1 billion. That's right, with a b. They are sustainably growing at a rate of 600% a year, so they have to be doing something right. Right? The short answer is yes, they're doing a plethora of things right. Because we don't have time to talk about every product they've ever released or every blog post they've ever published (though you can scroll to the bottom to see some of my favorites), I've pored over my notes to find a common theme, and what has emerged is one thing: trust. If a brand prioritizes building trust to nurture customer relationships, they'll naturally end up with a devoted customer base that will drive a consistent rise in sales, following and customer retention.
As mentioned, there's an overwhelming amount of evidence to support this theme, so I've chosen three key things that Glossier does well that are capable of being scaled down and acted upon by a smaller company that doesn't have, say, $1 billion to spend. The first of these three things is arguably the most important: quality vs. quantity.

Quality vs. Quantity
If you take a look at Glossier's website, you'll notice that they have one mascara, one body lotion, one perfume scent, etc. This is very different from your mainstream/drugstore beauty and skincare companies, like, for example, Covergirl. They offer 31 different mascaras on their website, but when was the last time you hopped on Twitter to see someone raging about Covergirl mascara? Probably not a common occurrence on your timeline. I may be biased as I've outed myself as a Glossier groupie, but their mascara is one of my ride or die products and I keep a brand-new, boxed up Lash Slick under my sink in case of emergencies, and I know I'm not alone. A quick Google will give you thousands of glowing reviews, like this one from The Stripe. The message of quality isn't one that the audience is supposed to determine entirely on their own, however. Glossier (rightfully so) brags about their product process in this post on Instagram, stating, "It took 248 formulations, 18 months of product testing, and years of patience.". They're incredibly proud of the fact that they'll take the extra time to create a really stellar product as opposed to throwing mascara wands at their customers and seeing what sticks. Because of this, I can trust that they treat every product with the same high standards, and at the very least, I'm convinced to give their mascara (and maybe even whatever they release next) a try.
Now you may be thinking to yourself, "That's really great and I'm on board, but I don't have a really stellar mascara to sell, and this is a real estate marketing blog.", and you'd be totally right! The mascara example is simply a vessel within which I can demonstrate how important quality is to the consumer. In real estate marketing, this can look like a beautiful, robust, well-written quarterly e-newsletter as opposed to a half-baked monthly one, or maybe it's an on-brand print ad created by a graphic designer instead of a whole suite of subpar display ads created by a marketing intern. Whatever your preferred channel is, the important thing is that it's a high quality piece of content and it provides obvious value to the consumer and their experience.
Exceptional Customer Support
Excellent encounters with a brand's customer service are becoming more and more rare, with the exceptions making for true "surprise and delight" experiences. But these seem to be the norm for the delightful folks at Glossier, as I realized during an email exchange with them somewhat recently. About this time last year I was having a problem with their Zit Stick, and this is the email I received back after reaching out: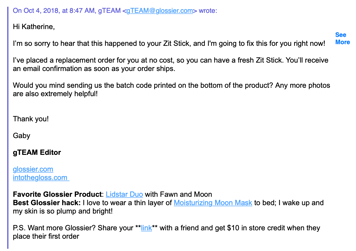 No questions asked, they sent over a new one (thanks Gaby!), and now here I am, a year later writing about how much I admire them. Another brag-worthy example is one I saw on Facebook about a month ago. For privacy's sake, the wonderful young lady that shared this post is not being named, but her experience can be summarized as such: 'My first purchase on Glossier was the Solution, but I didn't realize at the time that it contains fragrance, something that always breaks me out. I contacted them to return it, and below is what they replied.'
She goes on to say, "This was my first time ordering from them and they definitely did not disappoint, if any of you guys are contemplating placing an order I would highly recommend!! They clearly care a great deal about their customers, which is so so huge.". This glowing review was posted to a group with over 14 thousand people in it, and the post itself has garnered over 100 likes.
Now imagine selling a home to someone who is so thrilled with their experience working with you that they tell 14,000 people about it. That's an insane referral. As a real estate agent, or a marketer at a real estate brokerage, you're not going to be receiving requests to return a home (at least I hope not), so let's consider how you can inspire the same level of satisfaction after a customer interaction. Everything comes back to (say it with me) trust, so as you go about responding to emails from a lead or even responding to a comment on Instagram, it's important to think about what impression every response is giving. An easy rule of thumb is to imagine receiving your own reply from somebody else - does it make you excited to work with this person? Do you trust or even like them enough to work with them? It can as simple as adding a personal touch to the end of your email. For example, if your lead came to an open house in running gear, ask them if you'll see them at the local 10k at the end of the month when you follow-up about the home. Or, go the extra mile and send a thoughtful housewarming gift (Giftagram has plenty of high-quality, low-cost options); extra points if it's something they previously talked about wanting or visualized in the home you're selling, like a plant next to the patio door.

Relatable Social Media
No, you don't need to join TikTok ASAP. As far as I'm concerned, a Glossier TikTok account does not exist, but they did recently talk about TikTok on their blog, Into the Gloss. I'm not here to talk about what platforms to use, but rather what you're posting. My favorite example of Glossier's social media presence isn't Glossier's at all - it's Emily Weiss's Instagram. Emily Weiss is the CEO and Founder of Glossier. Her Instagram is a really good example of using social media to build a rapport with your client base as someone whose name is associated with a brand. Here are a few of my favorite examples, organized chronologically: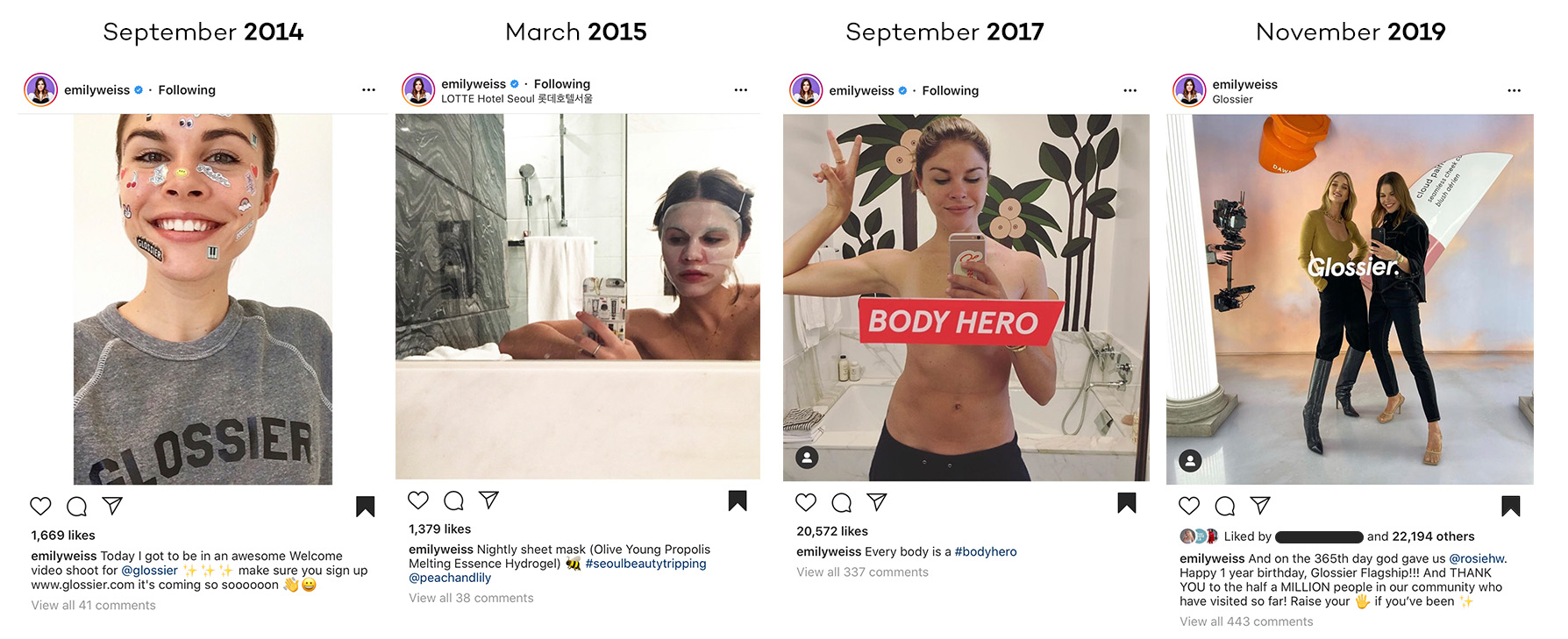 Weiss has been creating the same story since day one, and it all has to do with trust. The first post above is from 2014, when Glossier was just a baby, and Weiss is smiling with her Glossier merch. This, while not necessarily intentional, is appealing to the pathos of the viewer. As a quick reminder in case you haven't heard that word since 9th grade language arts class, pathos is when you appeal to emotions and values. When you see someone who's clearly excited and proud of what they've built, you want to support them (it's really that simple!).
The second post is from 2015, where Weiss shares what sheet mask she's using on this particular night. While this might come across as unimportant, it's quite the opposite; someone who knows skincare can be trusted to create a quality skincare product. You'll notice a huge jump in engagement from 2015 to 2017 - 1.3k likes versus 20.5k. Glossier is growing in popularity and so is Emily Weiss, and she's using her platform to promote a message that she believes in with the new Body Hero Duo: body positivity. The fact that she's so openly willing to practice exactly what the brand preaches is a quintessential example of creating a foundation of trust with the audience. And last but absolutely not least, Weiss is posing with Rosie Huntington-Whiteley, a former Victoria's Secret Angel, in the Glossier Flagship store. One look at Huntington-Whiteley's Instagram (where she racks in over 10 million followers) and you can clearly see she is what would be considered a makeup industry influencer. Again, while this may not necessarily be intentional, Weiss is letting her audience know that she has Huntington-Whiteley in her corner, and that isn't something that should be taken with a grain of salt. This is what I like to think of as the transitive property of trust: if I trust Rosie Huntington-Whiteley, and she trusts Emily Weiss, then I inherently trust Emily Weiss, too.
When taking the above examples into consideration for your own use, it can be helpful to think about ROI. This is best observed via metrics that help you to gauge readership and engagement in your social media efforts. Hootsuite goes into greater detail about social media ROI here, but some easy-to-implement post ideas include:
Wearing your own merch or a photo of your sticker on your (or an industry influencers) water bottle/laptop
Photos from a real estate event that you attended
Behind the scenes of prepping for an open house
Show off you and your AirPods and mention the real estate podcast you're listening to
Whatever it is you choose, the key is consistency. Emily Weiss didn't earn her following from posting about her brand once - it took a few years of creating her story and driving it home.


In Closing
In closing, there's a multitude of strategies you can be implementing that may or may not be your golden ticket to being worth $1 billion, but if you're going to choose a few, the above are solid places to start building your foundation for trust. As always, if you have any questions, comments, concerns, want to talk about your day (or you work at Glossier and want to send 40 mascaras my way), please feel free to reach out to kate@rezora.com or support@rezora.com. If you enjoyed this analysis, please let us know what company you'd like to see us dive into next!


My Into the Gloss Favorites