 Many sellers are hard-pressed to tell you no, you didn't earn your commission and that it's just a cash grab, or that Jane Agent doesn't charge so much. But you know you earn every penny you make, and you need a way to tangibly prove it (plus a nice way to say it). Well good news! You've come to the right place.
Break down what services you're providing
When a seller chooses to work with an agent, they're making the decision to have someone do the hard work for them. Because they're not seeing that hard work first hand, it can be easy to underestimate what exactly goes in to selling a home. Taking a moment to write out every single thing you do to get a house sold from start to finish is an excellent exercise to help you and your seller visualize the amount of work you're doing. Next time a seller tries to negotiate a lower commission, pull out your six page list and make it clear that they're getting what they're paying for, but you'd be happy to refer them to an agent that will provide a limited service for a smaller commission.


Explain where that 6% is actually going
Of course, it may be more or less than 6%, but odds are your seller doesn't realize that you're not going to walk away with the entire 6% in your pocket.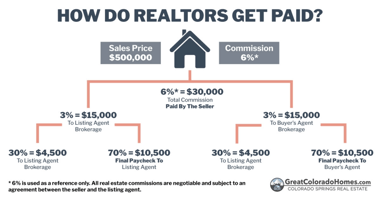 Providing a graphic like the one to the left (courtesy of GreatColoradoHomes.com) can help your seller understand that you're really only seeing a percentage of the commission. Include any tax information you can to further break down how much money will actually end up in your bank account, and your seller will likely start changing their tune. Additionally, remind the seller of the expenses that come along with being a real estate agent that they may not have been privy to like MLS dues, signs and lock boxes, promotional materials, or license fees.


Create a post-mortem marketing report
While similar to the aforementioned services sheet, this is going to be a fact sheet of everything you did to sell this listing. Include links to social posts and email blasts, a calendar with all of the showings and open houses you hosted, or even a timesheet with all the hours you spent making sure the house was staged properly and the open house signs were presented efficiently. Include an expense report of everything you and/or your brokerage paid for like a lockbox and signs. Now you have an example of your marketing strategy in action to bring to the table during negotiations, too! This can also be a good exercise in figuring out what you're spending too much or too little time doing, and what works the best in your marketing efforts.


Show off your track record
If your seller hits you with, "Well Jane Agent will do it for 4.5%", show the seller why you're the preferred agent over Jane. If you've sold ten homes in under three weeks in the last year, and Jane has sold six homes at an average of over a month per listing in the last year, then it suddenly becomes crystal clear that you're more expensive for a reason. For easy sharing, create a PDF or a page on your website that shows off your accomplishments (bonus points if you add a testimonial or two). You can even compare your stats to the average agent - we like this source for average selling statistics.


Don't be afraid to reject a cheap seller
If you're in the position to do so, don't be afraid to tell a seller that you're simply not a good match. This will position you as a high-demand, high-quality real estate agent, and you'll end up attracting the type of seller you want to work with. Struggling to figure out how to fire or reject a client? Here's some example verbiage: "Hi Mr(s). Seller! Thank you so much for your interest in my services. Unfortunately, I will not be able to take your listing. My marketing plan has been optimized over [x] years to get your listing the most market exposure possible to make sure you end up with the best selling price possible, but I understand that level of service isn't in everybody's budget. If you'd like, I can send over some referrals for agents that will be able to provide you the level of service you're looking for. Best of luck in your selling journey and thank you again for reaching out!"