rezora's digital marketing platform allows you to build high-quality marketing pieces and then distribute them through various channels including email and social media. Lately, we've been drawing attention to the effectiveness of adding Display Ad Retargeting to your ongoing email program.
In this post, I want to draw attention to some basic, but compelling benefits.
Benefit #1 – Awareness with Your Best Prospects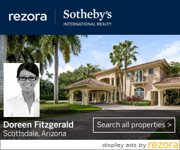 Enhancing your email strategy with Display Ad Retargeting allows you to maintain brand awareness with your most promising prospects. By serving display ads to those contacts that have demonstrated their interest (by opening one of your rezora emails), you make it more likely that they will remember you.
In a market filled with clutter (think competing sales agents), brand awareness can be the reason that a contact calls upon you, not your competitor, when they are ready to act
Benefit #2 – Precise Targeting

In retargeting, you are not simply using a random approach; serving ads to every visitor who comes to your website or listing page. You are only displaying ads to people who have already expressed interest by opening your email.
Again, Display Ad Retargeting lets you focus on your best prospects.
Benefit #2 – Increased Reach
If you are already implementing an email marketing strategy, you already have a certain reach. Retargeting expands your reach by giving you exposure on the websites your contacts are already visiting.
This can help you project an impressive brand image to your prospects.