Marketing Directors live in an ever-changing environment. Consumers are always changing their behavior and preferences.
To stay on top, marketers must remain up to date on the latest trends, techniques and insights. These proven marketing classics should be on every marketer's bookshelf.

The New Rules of Marketing and PR How to use Social Media, Online Video, Mobile Applications, Blogs, News Releases and Viral Marketing to Reach Buyers Directly
by David Meerman Scott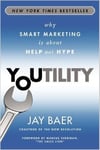 Youtility Why Smart Marketing is about Help not Hype
by Jay Baer

* One of our favorite takeaways from this marketing must-read: "If you sell something, you make a customer today. But if you help someone, you create a customer for life."


E

pic Content Marketing How to Tell a Different Story, Break Through the Clutter, and Win More Customers by Marketing Less
by Joe Pulizzi

* A key resource for rezora marketers, this is an epic resource for content marketers.


Links to additional resources: http://www.inc.com/geoffrey-james/top-5-marketing-books-of-2015.html