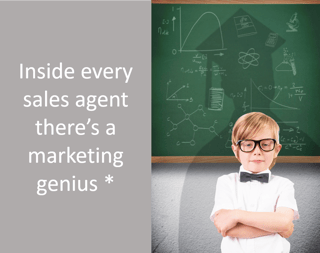 Here at rezora, we believe in the revolutionary idea that sales agents can be good marketers!
"Sacrilege!", say Marketing Directors everywhere. "I must protect my brand".
If you're a Marketing Director, what to do? How do you promote your brand, protect your brand, scale your efforts and engage your agents - all while managing a comprehensive program with limited staff and resources?
If you're a sales agent, how can you, with confidence, enroll your most valuable asset (your client database) in brokerage-level marketing campaigns?
The solution lies in rezora's "Collaboration Marketing" feature set. Simply stated, rezora is built to help both parties, Sales and Marketing, bring their respective strengths and resources to the common effort of nurturing client relationships. Throughout the rezora platform, you'll find functionality that helps the Marketing Director create, publish and distribute marketing pieces in collaboration with your sales force and helps the sales agent access brand-approved marketing assets which you can customize and send to your clients.
Recently, we launched an eBook that expands on the concept of Collaboration Marketing. We'd love to provide a copy to you.
Just link here for yours.