Introducing: Concierge Marketing Services!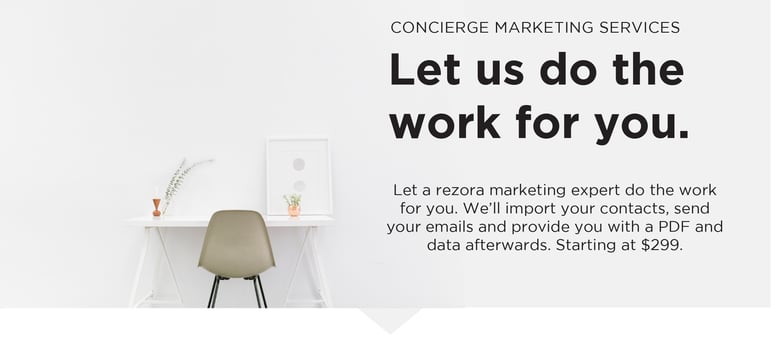 Do you ever feel like you just don't have the time to adequately market your listing? When asking our clients what we could do to better serve them, we started to notice that this was a theme. Agents and Marketing Directors alike understand the importance of getting their listings in front of all of their clients, but sometimes, they just don't have the time or resources to do this.
We sat down and got to thinking. What if there was a way for us, the rezora team, to offer a service where we help agents and marketers market their listings from rezora. You give us all the basic info we need, and we'll do the legwork. We'll import your contacts, send your emails, give you a printable PDF, and follow up with data once we're done. Sound like a dream? We're pretty excited about it too. We're calling it Concierge Marketing Services, and you can order it now for just $299!
What we do / What you receive
FOUR EMAILS
Just Listed
Open House
Featured or Price Reduced
Just Sold
A PRINT PDF
Extend your listing's market reach with a ready-to-print Property Flyer.
DISPLAY AD RETARGETING
Anyone who opens your emails will see your ads as they're browsing the internet
IMPORT YOUR CONTACTS
We will import your CSV of clients for you to a special Concierge client list
FOLLOW UP WITH STATS
We'll follow up with the statistics for you to analyze.
THE BEST SUPPORT
After you complete the order form, we will an email to review our strategy with you. You will have a special email address to contact for updates.
How do I order Concierge Marketing Services?
Sign into your rezora account, and order the service from your Apps and Integrations page.
Fill out the addition form here so we can get make sure we have all the info we need to get started on helping you to sell a home even faster.
Sit back and relax while we create and schedule your marketing pieces and display ads.
Wait for stats! Once your pieces have gone out, we will follow up with the statistics to analyze.
Still want to know more? Watch our video for a quick run through!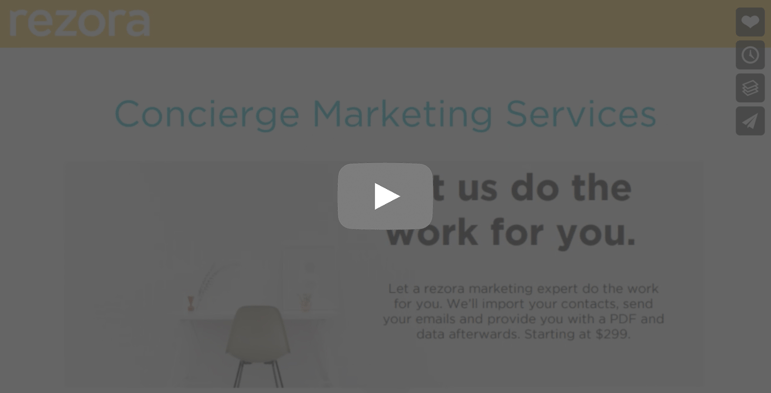 What are you waiting for?
Give your premier listing the support it deserves!